Welcome to my photo tour of Erie Lackawanna Railroad and its operations, both freight and passenger. I look forward to providing the finest service I can and enhance the railroad's reputation as THE FRIENDLY SERVICE ROUTE. I look forward to welcoming you aboard again and often. Final call for Train No.1 THE PHOEBE SNOW For Chicago, now boarding at Track No.8. All aboard, please.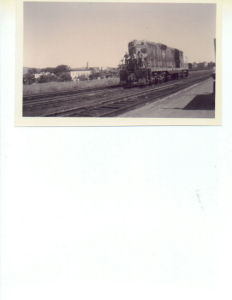 EL 1223 at Elmira,NY
Shelden King caught this GP 7 still in full Erie Livery from the station platform at Elmira,NY. Some 1200 series GP7s had steam and signal pass through lines for use in passenger service with boiler equipped units.